European Society of Radiology: Sports imaging is the main theme of IDoR 2019. In most countries, this is not a specialty in itself, but a focus within musculoskeletal radiology. In your country, is there a special focus on sports imaging within radiology training or special courses for interested radiologists?
Álvaro Burdiles: Sports imaging in Chile is becoming increasingly popular, in part because the number of people practising different sports is rapidly rising. Most radiologists working in sports imaging have a special interest in musculoskeletal (MSK) radiology, and some of us have received formal training in both diagnostic and interventional MSK radiology.
The radiology residency programme traditionally features some training in sports imaging as part of the MSK radiology rotation, although that varies depending on the institution. Regarding courses, we have had the opportunity to host several national and international meetings about sports imaging, some of them organised by the Chilean Society of Radiology (SOCHRADI) and others in association with the International Skeletal Society, thanks to its outreach programme.
ESR: Please describe your regular working environment (hospital, private practice). Does sports-related imaging take up all, most, or only part of your regular work schedule?
ÁB: I work at a university hospital that boasts the largest radiology residency programme in the country. In the MSK radiology division, we work very closely and smoothly with the orthopaedic surgeons and sports medicine specialists, helping them with diagnostic studies as well as with the required image-guided interventions. Sports imaging takes up a big part of my regular work schedule, but we also do a lot of imaging studies for rheumatology patients and tumour imaging, using advanced techniques.
ESR: Based on your experience, which sports produce the most injuries that require medical imaging? Have you seen any changes in this regard during your career? What areas/types of injuries provide the greatest challenge to radiologists?
ÁB: In Chile, football is the most popular sport, accounting for a significant amount of sports imaging cases. In winter, we are lucky to enjoy fantastic ski resorts across the country, but skiing is associated with particular types of lesions that are very different from football. For instance, some ski-related injuries are high-energy traumatic lesions. An increasing number of sports are being practised in Chile, including tennis, running, basketball, volleyball, rugby, hockey and surf, to mention a few, giving us the opportunity to constantly learn about different types of lesions, their pathophysiology, imaging characteristics and treatment. The most challenging cases are those related to high-energy sports-related lesions and generally lesions in professional athletes.
ESR: Please give a detailed overview of the sports injuries with which you are most familiar and their respective modalities.
ÁB: In football, we have seen multiple types of lesions, mainly in the knee and ankle. In the knee, the most common lesions are injuries in collateral and cruciate ligaments, although bone lesions, such as fractures and bone contusions, and cartilage traumatic injuries are also very frequent. In the ankle, the most common football-related lesions are ligament injuries. Pubalgia, or sports hernia, is becoming a real issue in football players, because of the growing frequency and the chronic sequels in many cases, especially in cases with delayed diagnosis and treatment. Magnetic resonance imaging (MRI) is the first imaging modality used in most sports-related injuries, although in some cases ultrasound can be very useful, for example for collateral ligament injuries in the knee and ankle. Regarding ski-related lesions, we very often see anterior cruciate ligament (ACL) injuries and associated lesions in the knee. Fractures are very common in skiers too, some of them with particular morphology and location, e.g. spiral fractures and snow-boarder fractures.
ESR: What diseases associated with sporting activity can be detected with imaging? Can you provide examples?
ÁB: In the case of ligament injuries, some superficial ligaments, for example in the ankle, can be properly evaluated with ultrasound, which is a very useful technique if you have the right hardware, particularly the right linear high-frequency transducer, and, most importantly, a very well-trained radiologist to operate it. Ultrasound is also very useful in cases of sports-related muscle injury, giving morphologic details of the muscle tears. In lesions of large muscle groups (thigh, bodybuilders) and in professional athletes, MRI becomes the imaging technique of first choice, thanks to the improved sensitivity and accuracy compared to ultrasound. For intraarticular lesions and ACL injuries, MRI is the modality of choice. When one needs to look for fractures, the first choice is radiography or x-ray, owing to its cost-effectiveness. But sometimes fractures require computed tomography (CT) or MRI, to be diagnosed and properly evaluated, particularly in complex intraarticular or stress fractures. To sum up, every anatomic structure in the locomotive system can be studied with the adequate imaging technique.
ESR: Radiologists are part of a team; for sports imaging this likely consists of surgeons, orthopaedists, cardiologists and/or neurologists. How would you define the role of the radiologist within this team, and how would you describe the cooperation between radiologists, surgeons, and other physicians?
ÁB: We work very closely with the clinicians, especially with orthopaedists and sports-medicine colleagues, guiding them with the best imaging modality in every case depending on the clinical diagnosis. This definitely requires radiologists with an expert-level knowledge regarding the different imaging modalities and the respective sensitivity/specificity/accuracy for different sports-related lesions. In other words, to be proficient in sports imaging, it is not enough to have an ultrasound probe in your hand. Rather, one needs to demonstrate multimodality expertise. Clinicians know this, and that is the reason why they need to work with an experienced radiologist to reach accurate and timely diagnosis.
ESR: The role of the radiologist in determining diagnoses with sports imaging is obvious; how much involvement is there regarding treatment and follow-up?
ÁB: Thank you for that question, because this is an important matter. As radiologists working in sports imaging, we are a critical part of the multidisciplinary team, not only in the diagnoses but also in the minimally invasive image-guided procedures for different pathologies – namely image-guided injections and aspirations in joints, muscle lesions and tendon injuries. These procedures can be of significant contribution in treatment, allowing the patient to return to practice sooner and pain-free. After different treatment strategies, follow-up imaging is important to give additional information to the clinical observations regarding the evolution of the lesions.
ESR: Radiology is effective in identifying and treating sports-related injuries and diseases, but can it also be used to prevent them? Can the information provided by medical imaging be used to enhance the performance of athletes?
ÁB: This is a very interesting topic. In professional athletes, we commonly see scars or sequelae of old injuries in different tissues, most of them asymptomatic. This is important information to change training strategies and the types of exercise in some athletes. In the paediatric population in particular, it is important to consider the maturation of the growth plate in long bones. This information should be considered to modify training and the stress applied to those bones in different sports, both for upper extremity activities, for example throwing sports like baseball, and lower extremity activities, such as football, in order to prevent some injuries.
ESR: Many elite sports centres use cutting-edge medical imaging equipment and attract talented radiologists to operate it. Are you involved with such centres? How can the knowledge acquired in this setting be used to benefit all patients?
ÁB: Working with professional athletes and giving them timely assistance is a great experience. This includes obtaining imaging studies right after acute injury. These interactions allow us to have a very good correlation between the injury mechanism and the imaging findings. With proper imaging follow-up, we can see and understand the normal evolution of the different injuries. I have had the privilege of working with professional football players, skiers, hockey players and rugby players, among others, in our institution and in other facilities. In the end, the injury mechanism and normal healing are the same for both professional and non-professional athletes – namely the 'weekend warriors'.
ESR: The demand for imaging studies has been rising steadily over the past decades, placing strain on healthcare budgets. Has the demand also increased in sports medicine? What can be done to better justify imaging requests and make the most of available resources?
ÁB: The demand for sports imaging studies keeps increasing. This is where radiologists have a fundamental role because as medical-imaging experts we can guide the patient and the medical team to use the most appropriate imaging technique in every case, thinking of cost-effectiveness and avoiding unnecessary studies. We now have more evidence-based guides, but there is still a lot of work to be done in that sense.
ESR: Athletes are more prone to injuries that require medical imaging. How much greater is their risk of developing diseases related to frequent exposure to radiation and what can be done to limit the negative impacts from overexposure?
ÁB: X-ray imaging obviously involves radiation, but successful strategies have been developed to reduce dose exposure. We need to justify the use of radiography properly. For example, in ankle injuries, you can use the Ottawa ankle rules, a set of guidelines for clinicians to help decide if a patient with foot or ankle pain should be offered x-rays to diagnose a possible bone fracture.
In the extremities, the radiation dose is lower compared to other anatomic areas, such as the abdomen, chest or pelvis. Besides, we frequently use MRI and ultrasound for diagnostic purposes in sports-related injuries and therefore avoid radiation exposure with these imaging modalities.
ESR: Do you actively practise sports yourself and if yes, does this help you in your daily work as MSK radiologist?
ÁB: Although I'm very busy, I try to find some time to go running and/or cycling weekly. And during the weekends, I play football with friends and family quite frequently. As you might assume, these activities have been associated with some 'accidents', keeping me away from the field occasionally. Fortunately, I have good friends in the orthopaedic department who can always count on the help of a radiologist to guide the diagnosis, proper treatment and follow-up. Although being injured is not a pleasant experience, it is a very informative process to be the patient and user of the medical system. It gives you insight into what works and what can be improved in medical assistance. All of our work, technology and expertise are ultimately dedicated to helping our patients.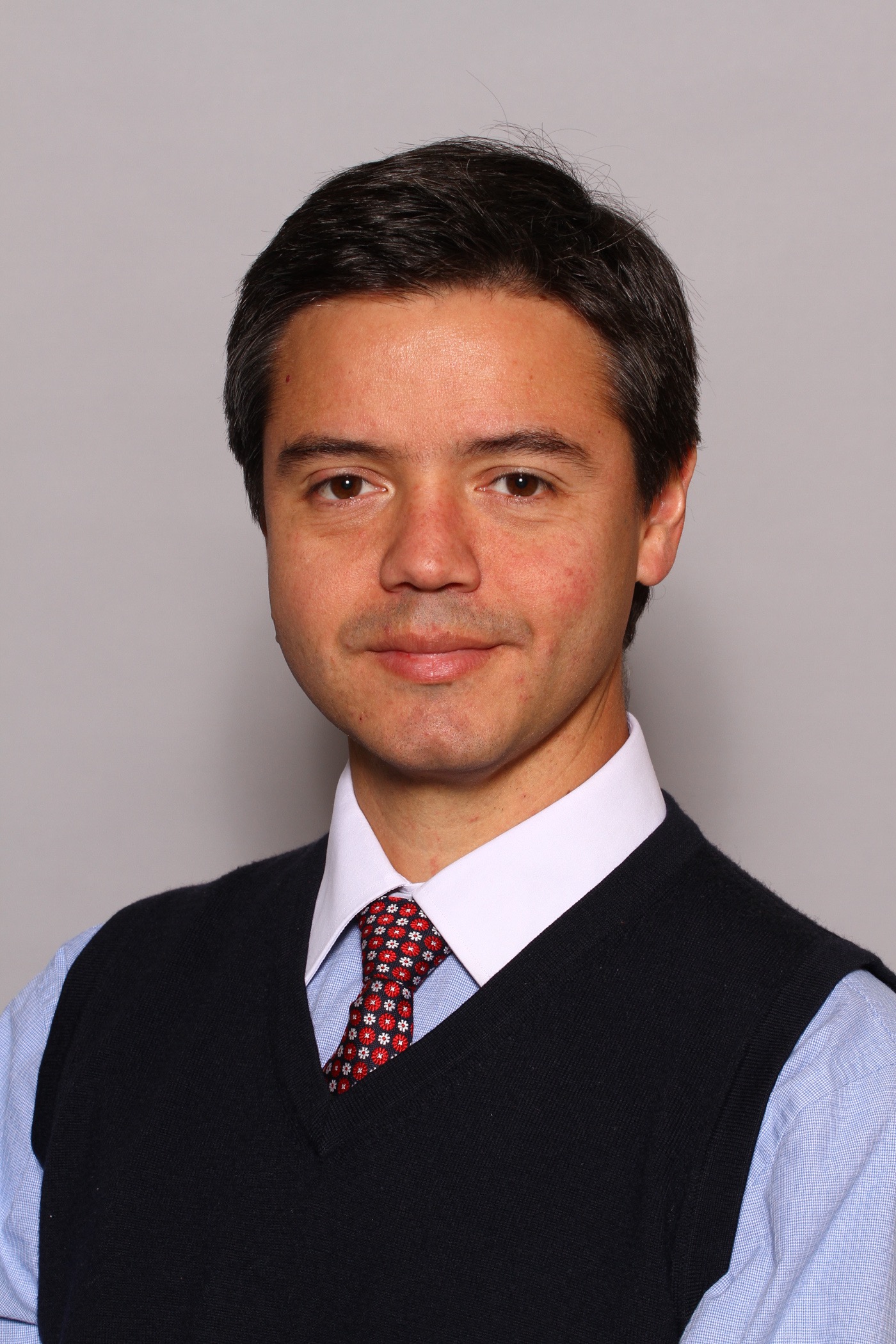 Dr. Álvaro Burdiles is Professor of Radiology, Head of the Musculoskeletal Division and Chair of the Department of Radiology at Chile's Catholic Pontifical University (Pontificia Universidad Católica de Chile), which has the largest radiology residency programme in the country with more than 30 residents. After a fellowship in diagnostic and interventional musculoskeletal radiology in Canada, Burdiles was appointed professor in the radiology department of Catholic Pontifical University, where he has been teaching residents in different programmes including radiology, rheumatology and orthopaedics, as well as undergraduates and students from all across South America. He has authored multiple publications and book chapters and given numerous lectures in national and international meetings. His main areas of interest are sports imaging, imaging in rheumatology and MRI in joint replacements. He is an active member and has sat on the board of directors of the Chilean Society of Radiology (Sociedad Chilena de Radiología, SOCHRADI), in which he recently served on the board of directors.