European Society of Radiology: Could you please give a detailed overview of when and for which diseases you use cardiac imaging?
Yamilé Marcos Gutiérrez: Cardiac imaging is used in many aspects, areas and entities of the cardiovascular system. Both morphological and functional alterations can be identified using different diagnostic imaging modalities.
Imaging techniques are used when heart disease is suspected, after the referring physician makes a symptoms analysis using patient interview and advanced physical examination, to determine the presence of clinical signs that may characterise heart disease.
Imaging techniques are usually used when physicians suspect cardiac cavities growth that is caused by valvular alteration or cardiac malformation, heart failure, coronary artery disease, coronary anomalies, aortic artery or pulmonary artery trunk disease, among others.
ESR: Which modalities are usually used for what?
YMG: We usually perform a frontal chest x-ray as the initial exam, to detect alterations of the cardiac silhouette and pulmonary flow.
This examination also enables us to evaluate if potential parenchymal and pleural effusion alterations may find their cause in the heart. Of all views that the ancient telecardiogram study offered, a frontal chest x-ray is the only one that has survived the passing of time, after the advent of the echocardiogram, outliving left anterior oblique, right anterior oblique and left lateral views.
Echocardiogram is a real-time technique, which is easy to move to the patient's bed and reproducible, and allows both morphological assessment (characteristics and size of the cardiac walls, chambers, valves and great vessels roots and pericardial) and functional evaluation (mobility, contractility, ejection fraction calculation and valvular flow evaluation).
There are three types of echocardiography: transthoracic echocardiogram, transoesophageal echocardiogram (TEE) and intravascular echocardiogram also named intravascular ultrasound (IVUS). A transthoracic echocardiogram takes images within the body from the skin's surface, without devices entering the body. For TEE, an ultrasound probe is introduced through the oesophagus to align the transducer with structures that are not easily visible using transthoracic approach – for instance, the thoracic aorta and left atrium and its auricle.
This technique has limitations since images are obtained in 2D and depend on the equipment and the observer. Image collecting also depends on the patient's anatomic characteristics, as the acoustic window is sometimes impaired.
Coronary angiography is a radiographic study using fluoroscopy – in motion and real time. A catheter is introduced through the femoral artery up to the ascending aorta, and iodine contrast is injected to visualise the coronary arteries. This enables us to determine if there are coronary alterations that are either due to the presence of a coronary anomaly or due to lesions located at this level. If there are any lesions and they can be treated, a stent will be implanted.
Multi-slice computed tomography (MSCT) complements findings that have been spotted by other modalities, such as x-ray or echocardiogram. CT has multiple applications in cardiology daily practice. It can be used to detect coronary calcium (calcium score) or evaluate pericardial calcification. It can also be used to assess calcification in the aortic valve.
MSCT can be carried out using iodine contrast injection to obscure coronary arteries and cavities. With MSCT, the radiologist can:
Assess the presence of coronary artery disease (CAD) in various clinical contexts that are well defined by the referring physicians
Diagnose coronary anomaly
Evaluate permeability of bypass in patients who have been revascularised by surgery or stent permeability in patients who have been revascularised by percutaneous coronary intervention (PCI)
Evaluate intracardiac tumours
Assess pulmonary veins' anatomy in patients who will receive cardiac resynchronisation therapy (CRT)
Evaluate the pericardium
MSCT with contrast media (called CT angiography) is also performed to evaluate the aorta in case of acute aortic syndrome and to assess pulmonary arteries to determine pulmonary embolism.
Magnetic resonance (MR) is very well accepted for the study of cardiac anatomy and function, especially in cases where echocardiogram wasn't conclusive. MR offers information on flows at the four cardiac valves level. Its main role is to evaluate the myocardium and to characterise its tissue, whether with contrast free sequences or with late gadolinium enhancement. MR enables to evaluate viability in ischaemic patients in whom other studies such as single-photon emission computed tomography (SPECT) haven't been conclusive.
Just like CT, MR also enables to visualise intracardiac tumours, the pericardium, the aorta and the pulmonary artery trunk.
SPECT enables to evaluate cardiac muscle perfusion disorder – or absence – using radioisotope injection. In the case of perfusion disorders, the affected tissue viability can be analysed. SPECT also enables to evaluate ventricular function.
Positron emission tomography (PET) uses tracer injection and allows evaluation of the cardiac muscle metabolism and perfusion, enabling us to determine the condition of the muscle affected by an ischaemic event.
ESR: What is the role of the radiologist within the 'heart team'? How would you describe the cooperation between radiologists, cardiologists, and other physicians?
YMG: The role of the radiologist in the heart team is important since he/she offers an integral anatomic vision in connection with some specific disease or condition, in addition to bringing value to other areas of imaging diagnosis outside the heart, enabling full patient assessment.
Cooperation between radiologists, cardiologists and cardiovascular surgeons in our centre is good. After clinical evaluation, different imaging techniques are correlated and discussed with surgeons, when patients need surgery.
ESR: Radiographers/radiological technologists are also part of the team. When and how do you interact with them?
YMG: Technologists are a fundamental pillar in collecting cardiac images, especially when using specific modalities such as CT or MR.
Most interaction with technologists occurs during image acquisition. In spite of radiographers' experience and knowledge of imaging protocols, we always discuss the image acquisition mode depending on what kind of study is required. We corroborate protocol parameters depending on both the study and the patient.
For post-processing, for instance with CT, the technologist may also intervene to bring additional reconstruction.
ESR: Please describe your regular working environment (hospital, private practice). Does cardiac imaging take up all, most, or only part of your regular work schedule? How many radiologists are dedicated to cardiac imaging in your team?
YMG: In our hospital, we regularly provide thorax x-ray imaging reports, especially on cardiac silhouette and pleural pulmonary alterations. We also carry out cardiac and non-cardiac CT examinations and CT examinations of great vessels.
Additionally, we perform general abdominal echography, vascular echography of the neck (carotid arteries) and lower limb studies during arterial complications in invasive procedures or deep venous thrombosis assessment.
Our hospital has also recently started to offer MR studies.
Cardiac imaging takes up most of our time but it's not the only part of our daily practice. We frequently image patients who are admitted to our hospital and present with complications, with alterations in the thorax, abdomen and brain.
ESR: Do you have direct contact with patients and if yes, what is the nature of that contact?
YMG: I do have contact with patients during ultrasound and CT examinations, before injecting contrast or when it is necessary to complete information that was not communicated by the patient's physician, and that is related to the patient's symptoms or other studies.
ESR: If you had the means: what would you change in education, training and daily practice in cardiac imaging?
YMG: Radiology training in our country should put more emphasis on cardiac imaging, to trigger interest in the subspecialty. The development of our specialty in this field is huge, and I think there are not enough radiologists doing cardiac imaging; we have even given a lot of space to cardiologists.
Of course our specialty is wide and the programme is tight; but we need to improve current training strategies to incorporate more radiologists into our field, in order to have at least one third level institution and provide, together with cardiologists, an appropriate level of care, while elevating the prestige of our specialty in that area.
This would allow carrying out studies using the same protocols all across the country, and expand the field of cardiac imaging beyond cardiology.
ESR: What are the most recent advances in cardiac imaging and what significance do they have for improving healthcare?
YMG: Among the recent advances, I would distinguish:
The new generation of CT scanners with more and thinner detector rows, dual source and stronger x-ray tube, which offer higher spatial and temporal resolution, therefore enabling us to acquire an image of the heart in just one cardiac cycle in coronary arteries assessment. This also reduces the radiation dose for the patient.
Software that helps characterise plaque, evaluate function, perfusion and fractional flow reserve has also been developed. All of these parameters can be evaluated in just one single study and enable us to make a diagnosis that improves treatment and avoids the development of complications.
Optical coherence tomography (OCT) and intravascular ultrasound (IVUS) enable appropriate evaluation of arterial walls characteristics, and specifically the analysis of plaque to determine the grade of produced stenosis, lipid content, etc. Using this technique usually enables us to evaluate more precisely which plaque could be responsible for an acute event that could trigger major cardiovascular events, therefore allowing secondary prevention.
SPECT/CT and PET/CT enable us to evaluate the myocardium's metabolism and perfusion during coronary artery disease, and to take into account biochemical characteristics of the affected tissue in decision making, to improve patient management.
ESR: In what ways has the specialty changed since you started? And where do you see the most important developments in the next ten years?
YMG: Changes in cardiac imaging in recent years have focused on improving image acquisition systems by lifting spatial and temporal resolution; post-processing programmes for already existing and newly created images, to widen information contained in these images; creation of new hybrid rooms, which optimise space and time to perform patient care and diagnosis.
In the next ten years, the most important advancement will be the development of new study protocols and post-processing programmes that allow optimised visualisation of acquired images, for a more accurate diagnosis
ESR: Is artificial intelligence already having an impact on cardiac imaging and how do you see that developing in the future?
YMG: Artificial intelligence (AI) use in medicine, and more particularly cardiology, is booming. Innovations in new medical imaging technologies contribute to patient medical care, from shortening diagnostic time to improving diagnostic quality; they also allow us to improve productivity and workflow and reduce hospitalisation costs.
Toward the end of last year, new ultrasound and CT technology came out, with great development and implementation perspectives for the near future. These advancements will improve image quality, enabling us to obtain more and better information to diagnose and treat our patients in the best possible manner.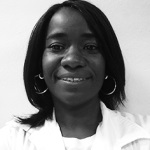 Dr. Yamilé Marcos Gutiérrez is a radiologist dedicated to cardiac imaging, and chief of the Imaging Department of the Cardiology and Cardiovascular Surgery Institute in La Habana, Cuba. She trained as a general radiologist at the Hermanos Ameijeiras Surgical Clinical Hospital. Since 2008 she has been working actively on the diagnosis of coronary artery disease (CAD), different cardiac alterations and great vessels with multi-slice computed tomography; she has participated in research projects on the topic that have been published, encouraging the development of multimodality imaging using different techniques. She is an assistant professor of radiology at the Medical Science University of Havana and trains radiology and cardiology residents in cardiac imaging, especially in CT and more recently MRI. Her main research interest is the prevention and diagnosis of CAD guided by CT and the integral evaluation of the thorax in the cardiac disease context. Dr. Marcos Gutiérrez is the editor of the Cuban Cardiology and Cardiovascular Surgery Journal and a member of the Cuban Cardiology Society, participating actively during events and workshops of this specialty.