European Society of Radiology: Could you please give a detailed overview of when and for which diseases you use cardiac imaging? Which modalities are usually used for what?
Ahmed Samir Ibrahim: In our department, we have three different scopes for cardiac imaging:
Congenital cardiac imaging in which we use low dose ECG gated multidetector computed tomography (MDCT) examination for diagnosing some common congenital heart malformation as Fallot's tetralogy, transposition of the great arteries (TGA), aortic coarctations and double outlet right ventricle (DORV). Post-operative follow-up of these cases is usually done using dedicated cardiac MRI examinations
We also use ECG gated MDCT for diagnosis of common cause of chest pain including pulmonary embolism (PE), coronary artery disease (low and intermediate risk groups), dissections and pericarditis.
Cardiac MRI is used for post-operative follow-up of congenital cases, diagnosis of different cardiac tumours, and follow-up of chronic ischaemic heart disease (IHD) cases. We also use cardiac MRI in the follow-up of thalassaemic and sickle cells patients to follow up cardiac and hepatic iron overload. ECG gated chest MRI is also used in cases of PE especially in uremic patients and pregnant women. Lastly, we are using some new cardiac protocols in some research fields (as T1 and T2 mapping) together with other departments such as paediatrics, cardio surgery, oncology and cardiac departments.
ESR: What is the role of the radiologist within the 'heart team'? How would you describe the cooperation between radiologists, cardiologists, and other physicians?
ASI: Our role is to keep track of these cases (as aforementioned) while trying to always be with all technicians in case they need help. Additionally, there is the role of interpretation where we opt for reporting in a group i.e. at least two cardio-radiology specialists from our cardiac imaging team are present together for the interpretation of cases. For better cooperation with other departments, we organise some 'cardiac imaging' meetings inviting paediatric, cardio surgery and cardiac departments. Cooperation with paediatrics and cardio surgery departments is excellent and a little 'less productive' with the cardiac department.
ESR: Radiographers/radiological technologists are also part of the team. When and how do you interact with them?
ASI: Radiographers/radiological technologists are always part of the team, we follow up complex anatomical cases with them and make sure that proper cardiac protocols are used and adapted to each presenting pathology. We also like to interact with the team of radiographers with periodic 'dedicated' powerpoint presentations to revise cardiac anatomy with them and to give tips and tricks relevant to cardiac imaging.
ESR: Please describe your regular working environment (hospital, private practice). Does cardiac imaging take up all, most, or only part of your regular work schedule? How many radiologists are dedicated to cardiac imaging in your team?
ASI: Regarding hospital environment, cardiac cases are revised twice a week during a meeting with the cardiac team in our 'cardiovascular room'. Around ten radiologists are working with me on this team, five are in training.
Regarding private environment, cardiac cases are revised three times per week including a majority of cardiac CT cases and fewer cardiac MRI exams. Reports are primarily reported on and revised by a senior radiologist.
ESR: Do you have direct contact with patients and if yes, what is the nature of that contact?
ASI: Contact is limited, we only call them to get extra information e.g. pre- or post-operative data.
ESR: If you had the means: what would you change in education, training and daily practice in cardiac imaging?
ASI: Of course, cardiac anatomy and basics should be more extensively taught to both undergraduate and postgraduate medical students as current curriculums are rather lacking in the cardiac field. The same should also be done for cardiac physical imaging principles and basics in cardiac pathology.
ESR: What are the most recent advances in cardiac imaging and what significance do they have for improving healthcare?
ASI: Regarding cardiac CT, I would expect fractional flow reserve CT (FFR-CT), when implemented for all new cardiac CT machines, to be a game changer and to really help in the better diagnosis of coronary artery diseases, especially borderline lesions which are rather a grey zone in cardiac imaging. Maybe FFR-CT application could extend to the rest of the vessels of the body.
Regarding cardiac MRI, T1 and T2 mapping are great tools in cardiac MRI imaging, I feel it still needs to be more internationally standardised on both 1.5 and 3 Tesla machines.
ESR: In what ways has the specialty changed since you started? And where do you see the most important developments in the next ten years?
ASI: When we started (10 years ago), we were just using ECG gated coronary MDCT imaging, then we gradually progressed to congenital cardiac imaging and lastly (4 years ago) we also added cardiac MRI as one of our cardiac imaging possibilities. Important developments will come in the fine-tuning of FFR-CT, T1 and T2 mapping and help from AI in getting an even more highly reliable cardiac diagnosis.
ESR: Is artificial intelligence already having an impact on cardiac imaging and how do you see that developing in the future?
ASI: AI is still not making any impact in cardiac imaging in our daily work, yet we expect it to help in the future assessment of the coronary artery stenosis degree, in FFR-CT, and in automatic calculation of all cardiac parameters including left and right ventricular ejection fraction (EF), end-diastolic volume (EDV), end-systolic volume (ESV), cardiac output (CO), stroke volume (SV), etc. (in both CT and cardiac MRI imaging). It could also have a role in 3D imaging and printing of complex congenital cardiac cases with flow dynamics incorporated in the 3D model.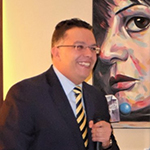 Dr. Ahmed Samir Ibrahim is a cardiovascular radiologist, professor and head of the advanced cardiac imaging unit (including cardiac CT, congenital heart and cardiac MR imaging) programme at Ain Shams University, Cairo, Egypt. His MD in general radiology was from France (Lyon) in 2005, this was followed by training programmes in cardiovascular imaging in both Germany (Erlangen) and USA (MIH, St Louis, Missouri). Professor Ibrahim is also EBCR (European Board of Cardiovascular Radiology) certified. Professor Ibrahim is an experienced lecturer for postgraduate and MD students and is an active speaker in North Africa and the Middle East where he has been invited to give more than 80 presentations. He is also a co-researcher and principal investigator on numerous international studies and has 28 international publications mostly in cardiovascular imaging fields and more than 109 citations (RG score of 20.77). He is also a cardiovascular imaging reviewer at the Egyptian Journal of Radiology and Nuclear Medicine Elsevier B.V. (reviewed more than 40 cardiac articles till this date) and member of the Egyptian and European societies of cardiovascular radiology (EgSCR and ESCR).