European Society of Radiology: Could you please give a detailed overview of when and for which diseases you use cardiac imaging?
Yeon Hyeon Choe: We use cardiac imaging when patients present with cardiac and/or pulmonary symptoms. Clinicians request cardiac imaging when other imaging modalities or tests seem to be unsatisfactory for the diagnosis. Even in asymptomatic subjects with a high risk of coronary artery disease, cardiac imaging is used to detect or screen silent diseases.
Cardiac imaging is used for the evaluation of ischaemic heart disease, congenital heart disease, myocardial disease, valvular heart disease, arrhythmia, aortic dissection or aneurysm, aortitis, pulmonary thromboembolism, etc.
ESR: Which modalities are usually used for what?
YHC: CT and MRI are usually used for cardiac imaging by radiologists.
CT is used for coronary artery disease, congenital heart disease, valvular heart disease (including pre- and postoperative evaluation of transcatheter aortic valve implantation), aortic disease, pulmonary arterial disease, etc.
We use MRI to image ischaemic heart disease including myocardial infarction, myocardial diseases such as hypertrophic cardiomyopathy, myocarditis, amyloidosis, and congenital heart diseases such as postoperative state of tetralogy of Fallot, aortic valvular heart disease, Kawasaki disease, etc.
ESR: What is the role of the radiologist within the 'heart team'? How would you describe the cooperation between radiologists, cardiologists, and other physicians?
YHC: Cardiac radiologists work very closely with cardiologists and cardiac surgeons. We have regular imaging and preoperative conferences. We share research ideas, patient information and imaging data. Cardiac imaging data are open to clinicians for research, while CT and MRI are controlled by radiologists. CT and MRI examinations are performed by radiographers and interpreted and reported by radiologists.
ESR: Radiographers/radiological technologists are also part of the team. When and how do you interact with them?
YHC: Radiographers or radiological technologists and nurses are also members of the heart team. Nurses screen patients for contraindication of contrast materials, beta-blockers, nitro-glycerine, and adenosine (in case of stress test). They check the blood pressure and heart rate of patients before CT scanning and during adenosine-stress study. They also closely monitor patients during sedation for imaging.
Radiological technologists follow the examination protocols according to clinical diagnosis and the purpose of each study to perform the examination, and they can modify protocols for each patient. Imaging technologists also carry out three-dimensional CT image reconstruction and postprocessing/analysis of MR images.
Radiologists interact with technologists and nurses at each step of cardiac imaging, generally commanding the examinations. Adenosine-stress CT and adenosine-stress MRI are usually performed in the presence of supervising radiologists. Prescription of the MRI sequences and slice orientations are always given by radiologists. The CT scan range, type of examination (retrospective vs. prospective ECG-gating), amount and speed of injection contrast material are often discussed between technologists and radiologists.
ESR: Please describe your regular working environment (hospital, private practice). Does cardiac imaging take up all, most, or only part of your regular work schedule? How many radiologists are dedicated to cardiac imaging in your team?
YHC: I work at a tertiary referral hospital with around 2,000 beds and 9,000 outpatients per day. Cardiac imaging takes up all of my regular work except administrative tasks as chairman of our department. Currently four radiologists – two faculties, one fellow, one resident – are dedicated to cardiac imaging in our team.
ESR: Do you have direct contact with patients and if yes, what is the nature of that contact?
YHC: I have contact with patients when I supervise stress MRI, stress CT, or paediatric cardiac CT/MRI. Vascular sonography is another route of contact with patients. In case of adverse effects of contrast materials, I check the patients and determine how to treat them. However, my contact with patients is not the same as the referring clinicians.
ESR: If you had the means: what would you change in education, training and daily practice in cardiac imaging?
YHC: Radiologists would have their own outpatient clinic to meet patients before and after cardiac imaging. Thereby they could help patients to choose the proper imaging modality and examination method, and explain the results of cardiac imaging to patients to their satisfaction and understanding.
Cardiac imaging is still a rapidly-growing field in radiology. Therefore, the education of young radiologists is of utmost importance. Radiological societies such as the European Society of Radiology (ESR), Radiological Society of North America (RSNA) and the Asian Oceanian Society of Radiology (AOSR) are responsible for the future of cardiac imaging driven by radiologists.
ESR: What are the most recent advances in cardiac imaging and what significance do they have for improving healthcare?
YHC: Myocardial parametric mapping enables myocardial changes in the preclinical stage.
Fast cardiac imaging such as compressed sensing can help improve cardiac MRI workflow dramatically.
Dual-energy or spectral CT may enable the characterisation of coronary plaque and myocardium and reduce radiation dose during cardiac CT.
High-resolution CT technique may help assess the coronary stents and calcific lesions.
ESR: In what ways has the specialty changed since you started? And where do you see the most important developments in the next ten years?
YHC: I started cardiac imaging in 1990. At that time, paediatric congenital heart disease was the only area evaluable with MRI. In the late 1990s and early 2000s, multislice CT and breath-hold MRI technique along with late-Gd-enhancement imaging have brought cardiac imaging into the hands of radiologists. Since then, cardiac imaging has been one of the hottest areas in radiology with rapid growth in imaging techniques and clinical utilisation.
Photon-counting CT seems to be the most promising technique in development for the next ten years.
ESR: Is artificial intelligence already having an impact on cardiac imaging and how do you see that developing in the future?
YHC: Artificial intelligence (AI) will certainly improve workflow in terms of examination time in MRI and postprocessing of cardiac MRI and CT. AI will help detect significant coronary artery stenosis on coronary CT angiography.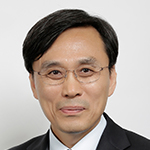 Dr. Yeon Hyeon Choe is a cardiovascular radiologist and the head of the radiology department at Samsung Medical Centre, Sungkyunkwan University School of Medicine, in Seoul, Korea. He graduated from Seoul National University and trained at the Seoul National University Hospital. Dr. Yeon Hyeon Choe became one of the pioneers in cardiac imaging in Korea in 1990, and he co-founded the Korean Society of Cardiovascular Imaging in 1995 and the Asian Society of Cardiovascular Imaging in 2006. He has served as president of the Korean Society of Cardiovascular Imaging and president of the Asian Society of Cardiovascular Imaging. He currently serves as president of the Korean Society of Magnetic Resonance in Medicine and the International Congress of Magnetic Resonance in Medicine. Dr. Yeon Hyeon Choe served as the section editor of Acta Radiologica and adjunct editor of the International Journal of Cardiovascular Imaging. He is now editor in chief of the Korean Journal of Radiology, and a member of the National Academy of Medicine of Korea as well as the RSNA scientific committee. He has edited two books and written 12 book chapters. He has also authored more than 250 peer-reviewed articles and delivered more than 200 invited lectures.