European Society of Radiology: Could you please give a detailed overview of when and for which diseases you use cardiac imaging?
Maja Pirnat: We use cardiac imaging whenever there is a clinical question about the heart. The indications are congenital anomalies, calcium scoring, exclusion of CAD, complication after surgery, to evaluate the patency of coronary bypasses, cardiomyopathies, myocardial viability studies, tumours or pericardial disease. I hope that with the new systems that we are just now waiting for, we will be able to broaden the indications also to perfusion studies.
ESR: Which modalities are usually used for what?
MP: We perform cardiac CT and cardiac MR studies. Cardiac CT is predominantly used in evaluating coronary arteries (congenital anomalies, calcium scoring, exclusion of CAD, for complication after surgery and to evaluate the patency of coronary bypasses). When you evaluate cardiomyopathies, viability studies, tumours, pericardial disease or congenital malformations we perform a cardiac MR study (CMR). Sometimes we perform the MR study also for evaluating complications after surgery.
ESR: What is the role of the radiologist within the 'heart team'? How would you describe the cooperation between radiologists, cardiologists, and other physicians?
MP: Initially, the radiologists were not treated as equals in the heart team, but with time most of the cardiologists and cardiac surgeons accepted the radiologist as a team member. In my case, the dialogue with the surgeons was better. It might be due to the surgeons understanding the value a skilled radiologist adds, where it seems difficult for a cardiologist to accept that the radiologist might have a valuable point of view. The cooperation with other physicians has been good from the get-go. It is my opinion they need help and there is no competition in who knows more about the heart.
ESR: Radiographers/radiological technologists are also part of the team. When and how do you interact with them?
MP: I have a very good interaction with the radiographers/radiological technologists. When we started with CMR at our institution I taught every radiographer how to position the planes, I explained what I am looking for and what I need. I am a firm believer that if someone understands what and why we need something they will be better at performing the work they have been tasked with. Also, it creates a team environment and mutual respect. The same applies to the CT team. We have agreed on how to perform the studies and what measurements are required. We have a radiographer who is dedicatedly trained in cardiac CT post-processing and now he teaches the younger generation. I perform the volumetric analysis of an MR study myself.
ESR: Please describe your regular working environment (hospital, private practice). Does cardiac imaging take up all, most, or only part of your regular work schedule? How many radiologists are dedicated to cardiac imaging in your team?
MP: I work in a University hospital where cardiac radiology is a part of my weekly schedule. The other part is thoracic imaging. When I started ten years ago, I had to establish this diagnostics field at our hospital and I was alone. We have recently started training another colleague.
ESR: Do you have direct contact with patients and if yes, what is the nature of that contact?
MP: I am mostly present at examinations and if I have a specific question for the patient, I ask them. Additionally, if we need some premedication for a CT study, I am the one who administers it. I am also available for questions if the patients have any.
ESR: If you had the means: what would you change in education, training and daily practice in cardiac imaging?
MP: There has been substantial progress in upskilling in recent years. When I was a resident, the evaluation of the heart on a chest x-ray was to report whether it was normal or enlarged. No one evaluated different chambers. Also, the heart was overlooked in the chest CT examinations. It was like a black hole; everybody knew it existed, but not many radiologists really paid much attention to it. Recently, the residents have routinely been directed to identify any heart issues. Spending some time in the cardiology department would definitely be beneficial – not only for a radiology resident but also in terms of accepting radiologists into heart teams. After graduating from med school, I worked in the ICU for nine months. Needless to say, I learned a lot during that period, which helps me in my daily practice. Also, I think it's important to increase the time available on the systems for cardiac exams. It is the field where most developments have taken place recently and that could help in patient management much more than it currently does. It will definitely expand but the speed will be determined by the availability and logistics in the centres. An important note is also the follow-up of the patients. It is difficult to get a follow-up for a radiologist, mostly because of underdeveloped follow-up systems, sometimes due to limitations in the clinical workup.
ESR: What are the most recent advances in cardiac imaging and what significance do they have for improving healthcare?
MP: The biggest significance of CMR is in cardiomyopathies. I see the established sequences together with the new tools (mapping techniques) as those that will give us more information. With appropriate workup and research, we will be able to distinguish between cardiomyopathies better. That will then lead to improvements in therapy and better long-term survival for patients. CT in coronary heart disease as the non-invasive tool helps us select patients for interventional procedures and assesses the coronary artery disease risk. Evaluation of myocardial perfusion in ml/100g/min is one of the best things that will improve our understanding of the vascular bed in the myocardium.
ESR: In what ways has the specialty changed since you started? And where do you see the most important developments in the next ten years?
MP: In the beginning, the non-invasive methods were not considered to be valuable by the cardiology society. When I started receiving cardiac MR referrals, any confirmations of the diagnosis on my part made the cardiologist suggest the MR study was not needed. If I had suggested an alternative diagnosis I had been told that I didn't know what I was doing. Nowadays, the value of non-invasive cardiac imaging methods is not questionable anymore, it is more the logistics of how to include it in a routine workflow. As the most important developments in the next ten years, I see quantification of myocardial blood flow (myocardial perfusion), evaluation of fractional flow reserve as well as 4D flow. This will increase our understanding of the heart and the circulatory system, which in time will lead to improved patient management.
ESR: Is artificial intelligence already having an impact on cardiac imaging and how do you see that developing in the future?
MP: Software is being used routinely in cardiac radiology. Whether AI can have a bigger impact? I do not know. I teach my residents to look at the connections between the heart chambers and the lungs and with the whole body. I would like to believe that the radiologist's view on morphology and the 'fifty shades of grey' we are trained to distinguish will still have its value.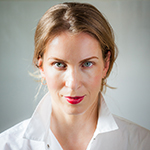 Dr. Maja Pirnat is a cardio-thoracic radiologist at the University Medical Centre in Maribor, Slovenia. She trained in UKC Maribor, UKC Ljubljana, as well as in Bakulev Institute in Moscow and at Emory University in Atlanta. She established cardiac radiology at the University Medical Centre in Maribor. She successfully organised two schools for cardiac diagnostics in Ljubljana, Slovenia, with renowned international faculty. The School of Cardiac Diagnostics takes place every February. She is involved in education at Maribor Medical faculty, as well as in organising workshops and other meetings on cardiac radiology. She is an active speaker at medical events.